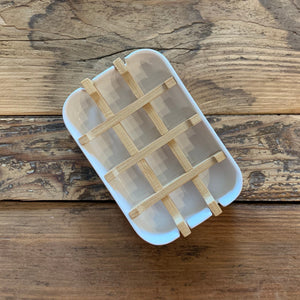 Regular price
Compostable Soap Dish
---
Zero Waste Soap Dishes
These compostable soap dishes are perfect for keeping your natural soaps dry between uses!
The trays are made from bamboo fiber and corn starch, and the grid is made from bamboo. The tray is solid, so it's perfect for using on countertops to keep them dry. 
Tray soap dishes are 5 "x 3.3" x 1"
Don't have a commercial composting service in your town? Bring these back to our shop when you're ready to move on from them, and we'll compost them for you.
Go here for a: compostable travel soap dish.