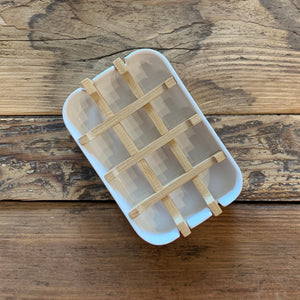 Regular price
Compostable Travel Soap Dish
---
Zero Waste Soap Dishes
These compostable travel dishes are perfect for travel, dorm rooms, or anytime you need to move your soap around. The cover keeps moisture inside while travelling.
The trays are made from bamboo fiber and corn starch, and the grid is made from bamboo. The tray is solid, so it's perfect for using on countertops to keep them dry.
Tray soap dishes are 5 "x 3.3" x 1". Travel dishes come with a cover.
Discard any water in tray before closing for regular use. Let soap and tray dry fully before keeping closed for long periods of time.
Don't have a commercial composting service in your town? Bring these back to our shop when you're ready to move on from them, and we'll compost them for you.