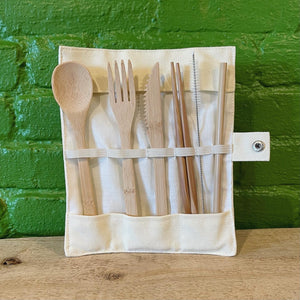 Regular price
STRW Co. Straws & Cutlery Sets
---
Reusable Straws & Cutlery
Choose between two eco-friendly sets:
One set of stainless steel straws so you can always have the perfect size straw whether you're drinking an iced coffee, a smoothie, or boba (plus it comes with a brush so nothing gets stuck inside the straw when you're rinsing it out). Contains: standard size straight and bent straw, wide straw for smoothies or boba, and straw brush
One set of full bamboo cutlery, including chopsticks and a standard sized straw. Keep the set in your bag, car, desk, or wherever you most commonly are when you're getting takeout. Rinse/wash in any sink after use, and wrap back up for next time. Contains:  fork, spoon, knife, chopsticks, straw, and straw brush
Never throw away single use plastic straws or single use cutlery again!