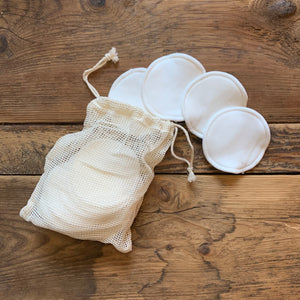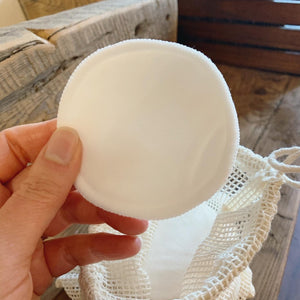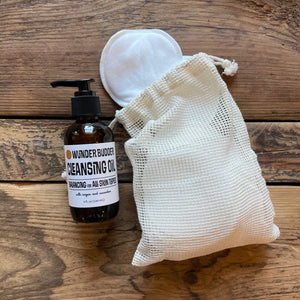 Regular price
Reusable Facial Rounds
---
Washable and Reusable Facial Rounds
Never buy (or throw out) disposable cotton pads again!
Use them for cleaning your face, removing makeup, or whatever else you'd use a facial round for. 
How we use them:
Keep clean pads in a jar or decorative storage container. Per use, moisten with water, squeeze out excess, then add the product - this keeps the pad from absorbing too much product (we add oil, and use it as a cleansing pad). Put used pad in the bag to await washing. To wash, put all pads and bag in larger washing bag, and wash with towels or regular clothes. Toss the whole bag in the dryer (the rounds won't come out flat, but it's easier than laying them flat to dry).
10 rounds, appx. 3 1/4" each. Two layers of super soft slightly fuzzy cotton blend.  Suggested care: machine washable in bag, tumble dry low. Comes with a washing bag, all in a recyclable kraft box.
These rounds are very soft and absorbent, and could also be used as nursing pads. 
(Oil Cleansing Oil available separately)