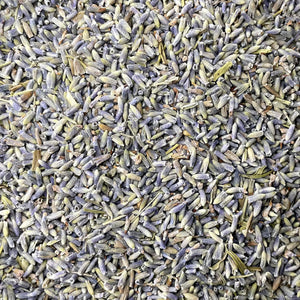 Regular price
Lavandin (Lavandula x intermedia)
---
Lavandin (Lavandula x intermedia)
Flowers

Organically grown in Albania, Bulgaria, Croatia, and/or France

Lavendin is a hybrid of two types of lavender, "English" (Lavandula angustifolia) and "Spike" (Lavandula latifolia). It's often sold as lavender, but its actual name is lavandin (a great example of why knowing botanical names is important!). It has a stronger and slightly more camphorous aroma, and a lighter purple color than our lavender, and is ideal for sachets or anywhere smelling is the end usage. "True lavender" is more ideal for teas or cooking.
1 oz = approximately 1 cup
This bag is lined with plant-based PLA and is compostable in a commercial facility. Remove label and tin tie before composting.
Please note: We are a small brick & mortar shop. To ensure freshness, we don't keep large amounts of herbs in stock. Orders are limited to 4oz per herb. Contact us for availability before adding more than 4oz to your cart.