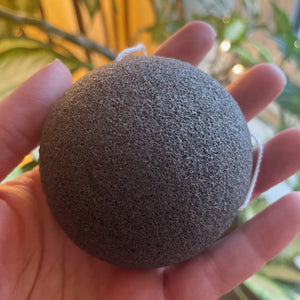 Regular price
Konjac Facial Sponge with Charcoal
---
Konjac Facial Sponge with Charcoal
Facial sponge made from the roots of the konjac/konnyaku plant (Amorphophallus konjac - you may recognize the flower as the "VooDoo Lily").
It's fairly hard when dry, but softens when wet and has a unique texture, almost like there's gel inside. 
Plant magic is everywhere! 
Wet it to soften, and use it with or without cleansers to cleanse and gently exfoliate your skin. When finished, rinse, squeeze out water, and hang to dry between uses. 
When it's time to replace your sponge, cut up and compost. 
Unpackaged.