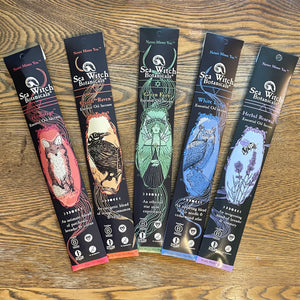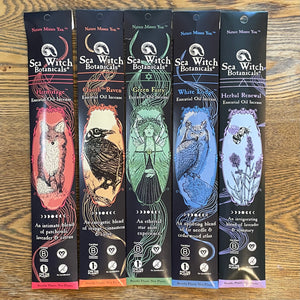 Regular price
Incense Sticks by Sea Witch Botanicals
---
Incense Sticks by Sea Witch Botanicals
All natural incense sticks handmade with essential oils, charcoal, and natural resins on a bamboo stick.
Hermitage: pink grapefruit, patchouli, lavender, orange
Quoth the Raven: orange, cinnamon, clove
Green Fairy: star anise 
White Lodge: cedarwood & fir
Herbal Renewal: lavender & rosemary
20 sticks per box
We usually have the seasonal scents in stock in the shop in limited quantities. If you're looking for a seasonal scent, send us a message!
Handmade in Bellingham, WA. Plastic-free, vegan, certified B Corp, 1% for the Planet. Women owned.