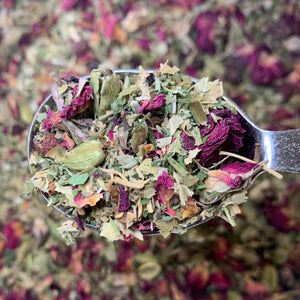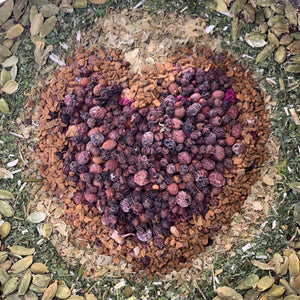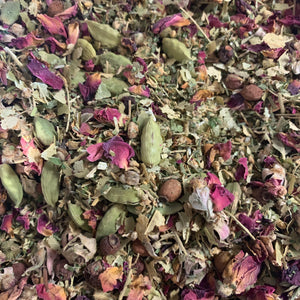 Regular price
Heartlight Herbal Tea Blend
---
Heartlight

Warm and floral, for the emotional heart.
Use: 1-2 tsp. per 8-10 oz water
Temp: 200°F
Steep: 10-15 min
Adjust amounts and steep time to taste. 
Made with organic cardamom pods (Elletaria cardamomum), organic hawthorn berries (Crataegus monogyna), organic linden flower and leaf (Tilia spp), organic rose petals (Rosa centifolia), organic motherwort (Leonurus cardiaca), organic cinnamon (Cinnamomum burmannii), and organic schisandra berries (Schisandra chinensis).
Each ounce contains enough loose leaf herbal tea for 10-15 brewed cups.

Made with love by Alchemy & Herbs in Exeter, NH.
0.5oz & 1oz zipper bags are completely compostable (including label) in a commercial facility. 2oz & 4oz bulk fold over bags are lined with plant-based PLA and are compostable in a commercial facility. Remove label and tie before composting. All empty compostable bags may be returned to Alchemy & Herbs for composting.