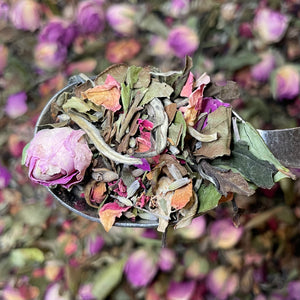 Regular price
Garden Party Tea Blend
---
Garden Party

A delicate floral and slightly earthy blend.
Use: 1 tbsp. per 8-10 oz water
Temp: 175°F
Steep: 3-5 min
Adjust amounts and steep time to taste. 
Made with organic: white peony tea (Camellia sinensis), jasmine green tea (Camellia sinensis), rose buds (Rosa damascena), rose petals (Rosa centifolia), lavender (Lavandula angustifolia).
*contains caffeine*
Each ounce contains enough loose leaf tea for 10-15 brewed cups.
Made with love by Alchemy & Herbs in Exeter, NH.
0.5oz & 1oz zipper bags are completely compostable (including label) in a commercial facility. 2oz & 4oz bulk fold over bags are lined with plant-based PLA and are compostable in a commercial facility. Remove label and tie before composting. All empty compostable bags may be returned to Alchemy & Herbs for composting.