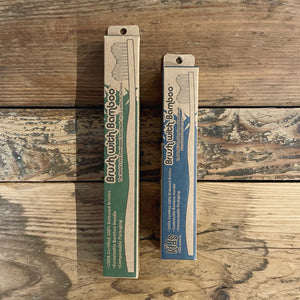 Regular price
Bamboo Toothbrush, for Kids - 100% Plant Based
---
Kid-Sized Bamboo Toothbrush - 100% Plant Based
Soft bristled toothbrush, made entirely from plants! 
The compostable handle is made from certified organic bamboo, and the bristles are made from castor bean oil. 
Plastic-free. USDA certified 100% biobased. Green American certified. Vegan.
Please note: there are no toothbrushes currently available that are 100% compostable, though some are mistakenly marketed that way. These toothbrushes are the closest we could find! The biobristles will break down, but they take longer than 1 year to decompose and can not be officially classified as compostable or biodegradable. They are held on with tiny aluminum staples. The bristles should be removed with pliers before composting the handle. 
Don't have a commercial composting service in your community? Bring these back to our shop when you're ready to move on from them, and we'll compost them for you.
This listing is for one single child-sized toothbrush. Looking for an adult-sized bamboo toothbrush? Go here.