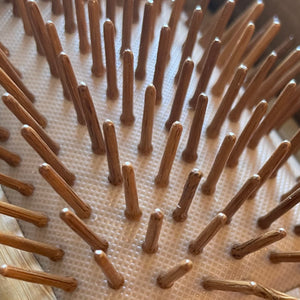 Regular price
Bamboo Hairbrush - 100% Plant Based
---
Bamboo Hairbrush by Brush With Bamboo
Zero waste hairbrush, compostable, and made entirely from plants*! 
The handle and pins are made from bamboo. The cushion base is natural rubber (made from latex). This hairbrush feels like a gentle scalp massage with every stroke of the brush. 
Plastic-free.
11 × 4 × 2 in
*the bamboo is finished with beeswax
Don't have a commercial composting service in your community? Bring these back to our shop when you're ready to move on from them, and we'll compost them for you.